نویسنده: حسنی، حسن؛ عنایتی نوین فر، علی؛ سراجی، فرهاد؛
اﻣﺮوزه داﻧﺶ آﻣﻮزان ﺑﺎ ورود ﺑﻪ آﻣﻮزش و ﭘﺮورش از ﻫﻤﺎن ﺳﻨﯿﻦ ﮐﻮدﮐﯽ ﻋـﻼوه ﺑـﺮ ﯾﺎدﮔﯿﺮی ﺳﻮاد ﺧﻮاﻧﺪن و ﻧﻮﺷﺘﻦ و ﯾﺎدﮔﯿ
دانشگاه شاهد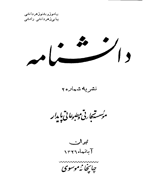 اﻣﺮوزه داﻧﺶ آﻣﻮزان ﺑﺎ ورود ﺑﻪ آﻣﻮزش و ﭘﺮورش از ﻫﻤﺎن ﺳﻨﯿﻦ ﮐﻮدﮐﯽ ﻋـﻼوه ﺑـﺮ ﯾﺎدﮔﯿﺮی ﺳﻮاد ﺧﻮاﻧﺪن و ﻧﻮﺷﺘﻦ و ﯾﺎدﮔﯿﺮی ﺣﻮزهﻫﺎی ﻣﺨﺘﻠﻒ ﻣﻮﺿﻮﻋﯽ ﻧﯿﺎزﻣﻨﺪ ﮐﺴﺐ ﻣﻬﺎرتﻫﺎی ﺳﻮاد راﯾﺎﻧﻪای ﻧﯿﺰ ﻫﺴﺘﻨﺪ ﺗﺎ زﯾﺮﺑﻨﺎی ﻫﺪف اﺻﯿﻞ آﻣﻮزش ﯾﻌﻨﯽ »ﯾـﺎدﮔﺮﻓﺘﻦ ﯾﺎدﮔﯿﺮی« ﺷﮑﻞ ﮔﯿﺮد و داﻧﺶ آﻣﻮزان ﺧﻮد ﺑﻪ ﻋﻨﻮان ﯾﺎدﮔﯿﺮﻧﺪﮔﺎﻧﯽ ﻣﺴﺘﻘﻞ و ﻣﺎدام اﻟﻌﻤﺮ در ﺟﺎﻣﻌﻪ ﻓﻌﺎﻟﯿﺖ ﮐﻨﻨﺪ. ﺑﺎ ﺗﻮﺟﻪ ﺑـﻪ روﯾﮑـﺮد ﺟﺪﯾـﺪ ﻧﻈـﺎم آﻣﻮزﺷـﯽ ﮐﺸـﻮر و آﻣـﻮزش ﻣﻬﺎرتﻫﺎی راﯾﺎﻧﻪای در دوره اﺑﺘﺪاﯾﯽ در دو ﺳﺎل اﺧﯿﺮ، ﭘﮋوﻫﺶ ﺣﺎﺿﺮ ﺑﺎ ﻫـﺪف ﻣﻄﺎﻟﻌـﻪ آﺳﯿﺐﻫﺎ، ﻣﻮاﻧﻊ آموزش ﺳﻮاد راﯾﺎﻧﻪای را از دﯾﺪ ﻣﺠﺮﯾﺎن ﮐﻼسﻫـﺎی درس ﺷﻨﺎﺳـﺎﯾﯽ و ﺑﺮرﺳﯽ ﻣﯽﻧﻤﺎﯾﺪ. روش ﭘﮋوﻫﺶ ﺗﻮﺻﯿﻔﯽ و از ﻧﻮع ﭘﯿﻤﺎﯾﺸﯽ اﺳﺖ. ﺟﺎﻣﻌﻪ آﻣﺎری ﻣـﻮرد ﻣﻄﺎﻟﻌﻪ، ﮐﻠﯿﻪ ﻣﻌﻠﻤﺎن ﭘﺎﯾﻪ ﺷﺸـﻢ )ﺑـﺪﻟﯿﻞ ﺗـﺪرﯾﺲ کتاب ﺟﺪﯾـﺪاﻟﺘﺄﻟﯿﻒ ﮐـﺎر و ﻓﻨـﺎوری( ﺷﻬﺮﺳﺘﺎن ﮐﺒﻮدرآﻫﻨﮓ اﺳﺖ ﮐﻪ 98 ﻧﻔﺮ ﺑﻮدﻧﺪ ﺑﺎ ﺗﻮﺟﻪ ﺑﻪ ﺣﺠـﻢ ﮐـﻢ ﻣﻌﻠﻤـﺎن ﻫﻤـﻪ آن ﻫـﺎ ﺑﺮای ﻣﻄﺎﻟﻌﻪ اﻧﺘﺨﺎب ﺷﺪﻧﺪ ﮐﻪ در ﻧﻬﺎﯾﺖ ﺗﻮاﻧﺴﺘﯿﻢ از 73 ﻧﻔـﺮ آن ﻫـﺎ اﻃﻼﻋـﺎت در زﻣﯿﻨـﻪ ﻣﻮﺿﻮع ﺗﺤﻘﯿﻖ را ﺟﻤﻊ آوری ﮐﻨﯿﻢ. اﺑﺰار اﻧﺪازه ﮔﯿﺮی، ﭘﺮﺳﺸﻨﺎﻣﻪ ﻣﺤﻘﻖ ﺳـﺎﺧﺘﻪ ﺑـﺎ 38 ﮔﻮﯾﻪ اﺳﺖ ﮐﻪ ﭘﺎﯾﺎﯾﯽ آن ﺑﺮ اﺳﺎس ﺿﺮﯾﺐ آﻟﻔﺎی ﮐﺮوﻧﺒﺎخ 0/90 ﺑـﺮآو رد ﺷـﺪه اﺳـﺖ. در اﯾــﻦ ﭘــﮋوﻫﺶ ﺑــﺮای ﺗﺠﺰﯾــﻪ و ﺗﺤﻠﯿــﻞ داده ﻫــﺎ از روشﻫــﺎی آﻣــﺎری ﺗﻮﺻــﯿﻔﯽ و اﺳﺘﻨﺒﺎﻃﯽ)ﺗﺤﻠﯿﻞ ﻋﺎﻣﻠﯽ، t ﺗﮏ ﻧﻤﻮﻧﻪای و t ﻣﺴﺘﻘﻞ( اﺳﺘﻔﺎده ﺷﺪه اﺳﺖ. ﻧﺘـﺎﯾﺞ ﭘـﮋوﻫﺶ ﻧﺸــﺎن ﻣــﯽدﻫــﺪ ﮐــﻪ ﻣﻌﻠﻤــﺎن ﺗﺴــﻠﻂ، ﺳــﻮاد و ﺻــﻼﺣﯿ ﺖ ﻻزم در خصوصی آﻣــﻮزش ﺳﻮادراﯾﺎﻧﻪای را ﻧﺪارﻧﺪ و ﻋﺎﻣﻞﻫﺎی ﺗﺄﺛﯿﺮ ﮔﺬار ﻣﺎﻧﻨﺪ ﻣﺤﺘﻮای ﮐﺘـﺎب ﭘﺎﯾـﻪ ﺷﺸـﻢ، روش تدریس معلمان، ﺗﻮاﻧــﺎﯾﯽ ﻋﻠﻤـﯽ و اﻃﻼﻋــﺎﺗﯽ ﻣﻌﻠﻤــﺎن، اﻣﮑﺎﻧـﺎت و ﺗﺠﻬﯿــﺰات ﻣــﺪارس، آﻣﻮزشﻫﺎی ﺿﻤﻦ ﺧﺪﻣﺖ ﻣﻌﻠﻤﺎن ﻫﻤﺮاه ﺑﺎ ﺿـﻌﻒ ﻫـﺎ و ﮐﻤﺒﻮدﻫـﺎﯾﯽ اﺳـﺖ ﮐـﻪ ﻧﯿﺎزﻣﻨـﺪ ﺑﺎزاﻧﺪﯾﺸﯽ و ﺣﻤﺎﯾﺖ ﺑﯿﺸﺘﺮی از ﻃﺮف دﺳﺖ اﻧﺪرﮐﺎران آﻣﻮزش و ﭘﺮورش اﺳﺖ.
The overall goal of this research is the study of satisfaction and attitudes of graduate students based education among University of Isfahan students The method of education. The statistical society includes total of graduate students based education in term 3 at University of Isfahan (112 people) in the 90-91academic year. Statistical sample was chosen Equal to size of statistical society، therefore، 112 questionnaires were administered in the final 86 questionnaires were returned. Research method is Descriptive survey and data needed have been collected through questionnaires. Formal validity of the questionnaire، after the primary administration and troubleshoot، was approved by 5 University of Isfahan Professors. Reliability was determined using Cronbach's alpha coefficient of 0.92، indicating the high reliability of the questionnaire. Statistical tests were used for data analysis in the descriptive and inferential levels. Results showed that students based education are not satisfied Future job ( =2.19) and education ( =2.34)، so that، they concerns about their Future job .Among them، the vision of scientific community is somewhat positive ( =2.51) toward this way. Also، the results showed that students based education in general are interested in this way ( =3.37). Therefore it is necessary to we provide the eliminate instrument of students concerns through the guidance that related with Future job and education and of these students. Also، students are satisfy from offers a seminar lesson instead of a thesis ( =3.60). The researchers assessment from participate in this study showed that unlike the original philosophy of based education courses providing mainly for teachers، students based education mainly who were that had the lower ranks in the master focus test. In other words، because of their entry into the study period hasn't uniformity with main goal of establish the training period.
دریافت فایل ارجاع :
برای مشاهده محتوای مقاله لازم است وارد پایگاه شوید. در صورتی که عضو نیستید از قسمت عضویت اقدام فرمایید.